SARTECH ARG5410-MKII Handheld Sarsat Beacon Tester
Product Details:
| | |
| --- | --- |
| Place of Origin | Florida, United States |
| Brand Name | Sartech |
| Model Number | ARG5410-MKII |
| Test Equipment | NEW |
Payment & Shipping Terms:
Detailed Product Description
SARTECH ARG5410-MKII Handheld Sarsat Beacon Tester
SARTECH ARG5410-MKII Handheld Sarsat Beacon Tester
The ARG 5410 MkII hand-held receiver provides accurate, independant checks ofthe correct operation of COSPAS/SARSAT distress beacons, such as EPIRB, ELT andPLB.
It can be connected directly through a suitable attenuator, or will recievethe radiated signal using it's own antenna. Radiated tests should be carried outusing the beacons own self-test mode, if provided, or a screened room orenclosure, such as the .
The 5410 MkII comes complete with user friendly software, designed to guidethe operator through the test procedures, with received signals decoded intoplain English.
Messages are time-tagged and stored, and can be viewed on the internal LCDdisplay. Alternatively, by using the serial data output, data can be downloadedto a printer or PC.
ARG5410 MkII meets and exceeds the following IMO requirements for testequipment for annual testing and shore-based maintenance of EPIRBS:
SOLAS Chapter IV, paragraph 15.9
MSC Circular 1039
MSC Circular 1040
Product Features
New version of industry standard tester
Works with all beacons - radiated or 50ohm connection
Fully decodes all message protocols
Measures power and frequency at 406MHz
Measures power and gives audible indication of 121.5MHz homing signal
Stores and time tags 30 messages
Integral rechargeable battery
Integral serial output to PC or printer
Flash programmable memory allows easy user upgrades (free downloads from this website)
Optional PC software creates message database and prints test certificates for IMO annual maintenance and shore-based maintenance (MSC Circ. 1039/1040)
Comes complete with splash-proof padded carry case, universal mains charger, serial cable, user manual, and 2-year calibration certificate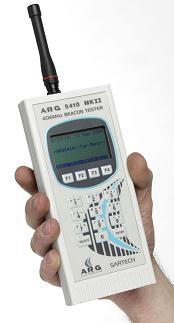 SARTECH ARG5410-MKII Handheld Sarsat Beacon Tester
Other Products from this Supplier
Want to get more exact suppliers with detailed quotations? Post an RFQ now>>


Not sure about product quality? Find reliable inspectors to help ensure product quality!
Related Searches:
Verified

Company

TEST EQUIPMENT CONNECTION CORP